Free Oil Painting Demonstration
Jerry's Artarama of Knoxville, TN

What: Portrait Study, drawing, flesh palette, color mixing, mark making.When: Saturday, March 10, 12-3 pmWhere: 5220 Homberg Dr,

Knoxville, TN 37919
---
Terry Strickland: Figuratively Speaking
45-50 New Paintings and work from the last few years
​Where: Johnson Center for the Arts, 300 E. Walnut Street, Troy, AL
Gallery hours: Wed, Thurs, Fri, 10-5; Sat 10-3, Tours by appointment: 334-670-2287
​
When: Artists Reception: Thurs, March 15, 2018, 6-8 pm, Exhibit runs March 1– April 15
​Simultaneously on exhibit is work by figurative artist Gary Chapman: All Over the Place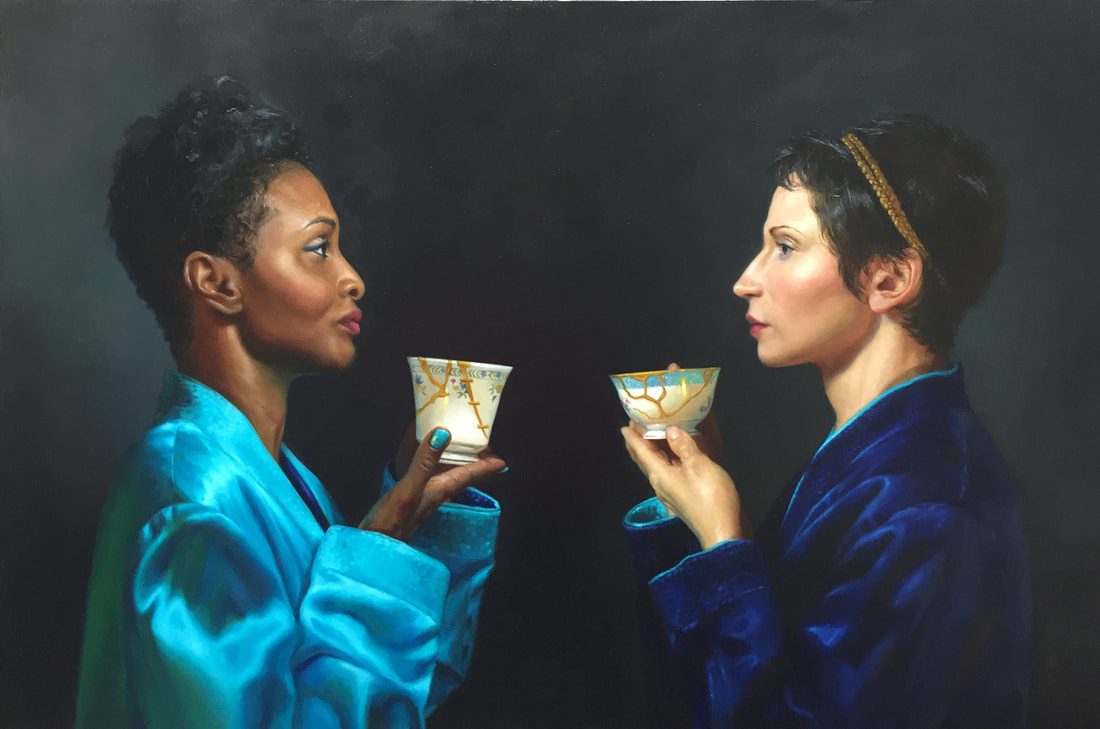 ​
---
---
​Scarlet in Winter wins a Merit Award
11th Biennial National Art Exhibition
Visual Arts Center, Punta Gorda, FL, Feb 8 - March 20, 2018
Scarlet in Winter, 24x36, oil
Read a step-by-step of the creating of this painting on my blog

Nikia With Purple Hair, 16x12, oil
---
​The Seamstress included in the
Women Painting Women: In Earnest Museum Exhibition
Read more about it on my blog
​and in Nashville Arts MagazineCustoms House Museum & Cultural Center, Clarksville, TN

August 1 – October 1, 2017

August 10, 5-7pm - Opening Reception

Sept 16 - Artists Evening Event,

I will be in attendance at this eventJ. Wayne Stark Galleries at Texas A&M University,
College Station, TX

Oct 16 - Dec 31, 2017

Oct 18 - Panel Discussion in the College of Architecture

Oct 19 - Afternoon Demo in Stark Galleries or College of Architecture​
---
​Gnosis, made it to the 2nd round of the jurying process of the Figurativas Exhibition at MEAM, in Barcelona, Spain.
---
​
July, 2017


New Gallery in Mountain Brook, AL
---
​Oct 9-13, 2017 (Full)
The Florence Studio Painting Workshop
I'm so pleased to announce I'll be teaching a workshop at The Florence Studio, in Florence, Italy.

What:

5-6 day Holiday Workshop

5 days instruction Mon-Fri 10am-3pm with one-hour lunch break with some afternoon and Saturday group activities in Florence with our host, sculptor, and co-owner/operator, of The Florence Studio, Frank Rekrut.

​

Dates:

Oct 9-13, 2017

Price:

875 Euros

, 50% non-refundable deposit due at time of registration. That price includes model fees. Students are responsible for their own airfare and accommodations. Email me at terrystr@terrystricklandart.com or Laura at The Florence Studio, theflorencestudio@gmail.com to register

About the workshop:

This is a back to basics, oil painting, portrait class working from a live model.

All skill levels are welcome from beginning to advanced. We will spend the first two days working on drawing, value and color mixing. The last three days we will put it all together in a painting of a single pose. I will give step-by-step demonstrations and individual easel to easel critiques.

Most of all it's going to be fun!
---
​May 12 through June 24, 2017
It's a Man's World, 20x16, has been accepted into the Oil Painters of America's Twenty-sixth Annual National Exhibition at Eisele Gallery of Fine Art in Cincinnati, Ohio. An opening reception will be held at the gallery for artists, collectors, the public and the press on Friday, May 12, from 6:00 p.m. to 9:00 p.m. with the awards presentation taking place during that time. The Exhibit will then be open until June 24, 2017.

Update! It's a Man's World won The Most Original Award of Excellence and found a new home. Thank you, Eiselle Gallery and The OPA!
---
---
Oct 22-Dec 14, 2016
| | |
| --- | --- |
| I'm so pleased to announce that my painting, Origin Story, 36x25, has been accepted into the Eighth Annual National Figurative Drawing and Painting Exhibition at LORE DEGENSTEIN GALLERY, Susquehanna University, Selinsgrove, PA. Opening reception and Awards Presentation, Oct 22, 7-9 pm. Exhibit up through Dec 14, 2016. | |
---
Oct 20-Nov 10, 2016
A Poem in Four Letters

, 24x29, has been named a finalist in

View Point 48

, a

National Juried Art Competition and Exhibit

by Cincinnati Art Club. The exhibit hosted by

Art Design Consultants

, 310 Culvert Street, 5th Floor, Cincinnati, OH. Reception and Awards Ceremony - Thursday, Oct 20, 5-8 pm

What inspired this painting?

Recognize the title from an old Simon and Garfunkel song?

Check out my

blog post

to find out.
---
Oct 1-30, 2016
---
Nov 10, 2016 - Painting Demo
---
Aug 19-Sept 10, 2016
Zhou B Art Center, 4th Floor

Curated by Sergio Gomez and Did Menendez

Opening Reception,

August 19, 2016, 7-9pm

I'm so pleased to have my painting

Self Portrait with Beard

juried into this First Annual Self-Portrait Exhibition and Publication. The publication will include all the work included from this provocative, contemporary art show at

33 Contemporary

, available through

Poets and Artists

.
---
Summer 2016
---
Tribute to the Emanuel Nine
Artists donate portraits to families of Emanuel Nine.

Gallery to host

Tribute to the Emanuel Nine - A Portrait Project

Charleston, SC, May 29, 2016: The exhibition is scheduled for May 29th, the day before Memorial Day and will honor the one year anniversary of the tragic event.

​


​Stephanie Deshpande- painting Mrs. Myra Thompson
Mario Robinson- painting Cynthia Graham Hurd
Terry Strickland- painting Tywanza Sanders
Ricky Mujica- painting Reverend Sharonda Ann Coleman-Singleton
Judy Takacs- painting Reverend Dr. Daniel Simmons Sr.
Paul McCormack- painting Ethel Lee Lance
Gregory Mortenson- painting Reverend DePayne Middleton-Doctor
Lauren Tilden- painting Susie Jackson
Catherine Prescott- painting The Honorable Reverend Clementa Pinckney

We Hear You, Wanza -A Portrait of Tywanza Sanders, by Terry Strickland
---
​TEDx BIRMINGHAM

It's Now ONLINE

Speaker: Mar 12, 2016 , UAB's Alys Stephens Center. NOW ONLINE!

​

"At a TEDxBirmingham event, speakers from a variety of backgrounds – none of whom are paid – share a bold, new idea through a short talk of 18 minutes or less. The events also feature artistic performances and hands-on, interactive experiences. The participants at a TEDxBirmingham event represent a cross-disciplinary mix of people, ranging from civic and business leaders to educators, technologists, artists, and more."